BUSHWICK, BROOKLYN — Looting, fires and closed down business brought Bushwick, Brooklyn to a standstill during the historic black out of 1977. To many, ash and vacant buildings are fertile ground for revival. Bushwick has become a magnet for struggling artists and Williamsburg overflow, and now like most gentrifying neighborhoods across the nation: a clash of cultures and agendas.
"The population changed," said resident Alex Johnson, 36. Looking out the window and firmly planted against the sway of the L train, he pointed out new housing developments as they whizzed by. The terracotta cockfight developing in Johnson's neighborhood is in an area that was primarily black and Hispanic for decades. Now it's seeing an influx of white residents.
"This is one of the closest [neighborhoods] to Manhattan so there's a lot of white people in the area now," said Johnson. According to the U.S. Census, the non-Hispanic white population more than tripled between 2000 and 2010.
Johnson said with his new neighbors come more police and organic food stores. "They got a lot of things that haven't been here five years ago," he said.
Beneath the Flushing Avenue elevated train stop of the JMZ lines are bars and cafes retrofitted into spaces that once belonged to family owned businesses. Street vendors sell the same goods sold in the Walgreens they're set up in front of, and an IHOP, not yet two years old, shares a block with small delis selling similar breakfast items.
Between the Flushing Avenue and Kosciusko Street stops along the J line, older residents say Bushwick is truly found on side streets like Hart or Dodworth where residents have childhood memories or have seen the streets go from drug infestation to "ghost-town". Yet, newer, younger residents point towards a different Bushwick, found in loft spaces turned into farms and auxiliary art projects near the L's Jefferson Street stop. The train lines stretching and screeching across Bushwick dot the gradient of gentrification throughout the neighborhood.
Each train stop spills out Bushwick newbies attracted by affordable housing and art gallery spaces alongside long-time residents with a hunch their rent may be going up soon.
"Money makers are coming out here and can rent an apartment for $2500," said Johnson.
"Affordable housing so they say. Section 8 doesn't apply to that – which is what we need. We can't afford that," he said.
According to PropertyShark.com's price map, homes in Williamsburg, Bushwick's gentrified neighbor, are priced 174% more than they were in 2004. In Bushwick, the increase is by 14%. Condos are selling fast but Johnson said the increased rent and influx of new residents prices long-time Bushwick residents out. As rent goes up, businesses close down or move out.
"We may not be able to stay here," said Lars Kremer, founder of Airplane, an art gallery on Jefferson Street. "There are four new buildings going up. We're probably going to have 200 new people on the block by the end of this year. A new bar just opened up down the street," he said.
Kremer has lived in Bushwick since 2000. "I've seen it change a lot," he said. "In many ways it will be good because of the increased exposure, but then there is also the looming threat of a rent increase that might happen. I have mixed feelings about Bushwick," he said.
The Center for Urban Future's 2012 State of the Chains study reports that there is a 2.6% increase in the number of chain stores across Brooklyn. Fifty-five chain stores are in Bushwick not including an additional 34 chains where Bushwick and Williamsburg share the 11206 zip code.
the most Bushwick thing EVER: we're getting a second Popeyes…two doors down from the first Popeyes twitter.com/alucci/status/…

— Amanda Lucci (@alucci) February 22, 2013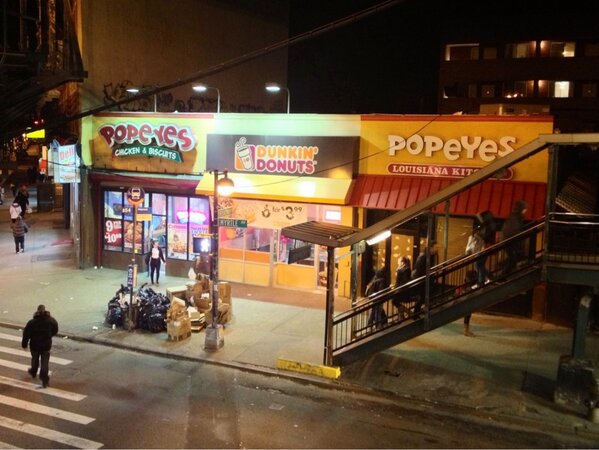 For Meagan Davis, a newcomer from Dallas, Texas, there are just enough familiar coffee shops and stores with newly hung drywall to not ruin the "gem" of her new home. However, if it becomes too much like Williamsburg, she would move she said.
"Williamsburg just doesn't have enough grit," said Davis, who has been in Bushwick for about six months. "Williamsburg is like Disney Land. Bushwick still has family, still has grit. Bushwick has something that to me is just real," she said.
To Johnson, that "realness" is just a freak show for new residents. Beneath the Myrtle Avenue stop on the J line, a woman who was visibly incoherent rolled and flopped on the ground reaching for her purse as pop culture's stereotypical hipsters stepped around her.
"You're in the hood, you see what's going on, that's real," said Johnson to the three men in skinny jeans and plaid. "They're scared so they keep walking," he said.
Torn between the old and new in his neighborhood, Johnson believes that gentrification in Bushwick can be felt more than it is seen. He said drug dealers weren't on his corner anymore, but on the other hand, the family-owned dry cleaner that would clean clothes free of charge for men going on job interviews was also gone.
"They're taking the danger out of Bushwick but taking the people out with it," said Johnson.
Some profanity.